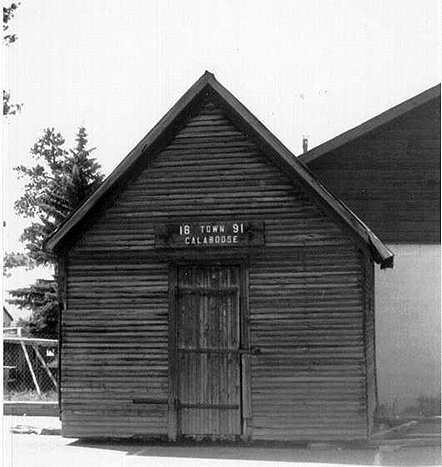 We at the Ute Pass Historical Society invite you to come and see our historic buildings, exhibits, and photographs. Our staff and volunteers take great pride and pleasure in showing visitors the wealth of artifacts, documents, and artwork housed in the Pikes Peak Museum, a group of five historic buildings at Ute Pass History Park in Woodland Park, Colorado. What's more, our Gift Shop offers books and other items that reflect the rich history of the Ute Pass area.
Why should you visit us?
—To discover what went in to developing the Ute Pass area—from the contributions of the Southern Ute people, to the early timber, mining, gambling, and agricultural industries and the critical arrival of the Colorado Midland Railway, to the heritage tourism destination it is today.
—To tour the historic buildings that were once a vital part of the Woodland Park community, including three residential buildings, the town's jail, and a cabin dedicated entirely to trains, which is always popular with the children.
—To examine many of the photographs in our archives, from the late 1800s to the more recent history of the area. Photographs are available to purchase as reprints. In addition our traveling photo exhibit includes a collection of framed images that are available to local businesses and other organizations for public display.
—To schedule a time when you can research our collections of archival documents, either on your own or with the assistance of one of our many volunteers.
—To shop at the delightful UPHS Gift Shop, which offers a wide selection of books on Colorado and Western history as well as jewelry, toys, children's books, and other gift items.
History Park and the Pikes Peak Museum are located on the campus of the Woodland Park Public Library just north of Highway 24 in downtown Woodland Park. Our address is 231 E.Henrietta Ave., Woodland Park CO, 80863.
Patronage:
By becoming a patron of UPHS, you provide needed funds that help us preserve and share our local heritage. Your support helps us with our museum and artifacts, our research archive and historic photographs, and our educational programs. Patronage is effective for one calendar year from January through December. Your contribution may be tax deductible.
In return for your contribution, you will receive:
—a quarterly newsletter
—a 10% discount on gift shop items and historic photo reprints
—free or discounted admission to UPHS special events
—the gratitude of our Board of Directors, your fellow members and volunteers, and the residents of Ute Pass!
It's easy to join the Ute Pass Historical Society:
Print the UPHS Patronage Form. Please complete the form and mail it to us with your payment. Patronage fees start at $30 for an individual. Please make your check or money order payable to the Ute Pass Historical Society and mail it to:
Ute Pass Historical Society
P.O. Box 6875
Woodland Park, CO 80866-6875
Volunteer:
Can you support UPHS by volunteering? UPHS is run by a group of dedicated volunteers. We always have interesting projects under way, and we need your help. We do our best to match people with skills and time to share and with meaningful projects that they will enjoy. The more people who participate, the more we can do! Benefits of volunteering include meeting new people, learning about our fascinating Ute Pass history, and greater involvement in your community.  Read more…