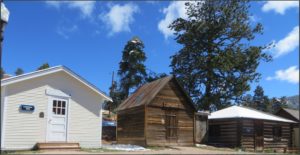 Take a walk through the bygone days with Ute Pass Historical Society! Weekly guided tours of History Park and the Walking Tour of Downtown Woodland Park continue through September 2 (excluding August 5 for the Mountain Arts Festival).
The two daily tours of the five buildings comprising History Park begin at 11 am and noon. Exhibits and contents are frequently refashioned so "come again for the first time!"
The 90-minute Walking Tour of Downtown Woodland Park begins at 10:30 am, so please arrive at the UPHS Museum Center by 10:15 am. The Center is located at 231 E. Henrietta Avenue, next to the Woodland Park Public Library. Don't forget to bring plenty of water and a light sweater.
While at History Park, visit the Olde Curiosity Gift Shop which offers an extensive selection of books and unique gift items. The Gift Shop is located in the Museum Center and is open year-round, Wednesdays through Saturdays, 10 am to 3 pm.
For more information, call UPHS at 719.686.7512.
All tours are weather permitting.
By Nancy Desilets
Photo by: Judy Perkins