In the early 1900's, many folks found the Ute Pass area to be a good place to raise a family. Children were expected to be self-sufficient and tend to their chores while busy parents worked the railroad and did other jobs.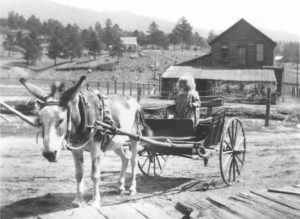 Dorothy Hart recalls that her mother could not keep track of her. "She would tie a rope around my waist and tie me to the railing of the store."
Donna Jean Clifford remembers hanging out wash in Colorado winters. "I had cold fingers every morning!"
Despite daily chores, there was always time for parties, picnics, and fun.  This exhibit reveals personal stories and features photographs and vintage artifacts.
The exhibit can be seen at the Woodland Park library on the 3rd floor through March. For more information, contact the Ute Pass Historical Society at 719-686-7512.