Ute Indian Cradleboard Chosen as One of Colorado's Top 10 Artifacts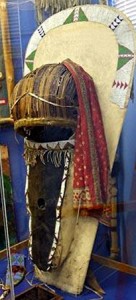 The Ute Boy's Cradleboard, a treasured object in the Ute Pass Historical Society collection, has been selected as one of Colorado's 10 Most Significant Artifacts. Colorado Connecting to Collections sponsors the annual campaign "to honor and recognize Colorado's cultural heritage organizations that care for and preserve documents, films, diaries, books and other artifacts. Each item tells a story and collectively represent the diverse history of Colorado." Ute Pass Historical Society is honored by this recognition and thanks everyone who participated in the campaign.
The cradleboard is on loan through 2014 to the Southern Ute Cultural Center & Museum in Ignacio, Colorado. See www.southernutemuseum.org. For more information, contact UPHS at 719.686.7512, or
utepasshistoricalsociety.org.
Artifact Description: Ute Boy's Cradleboard, c. 1880s; 45" x 22"; board frame covered with white deerskin, beaded on upper edge. Bow of twined twigs, baby picket covered with a shield of tanned leather beaded and with round hole in proper place; bandana handkerchief to shield baby's face; charms of elk tooth, horn, glass bottle, etc.; carrier has been tied for a large baby, umbilical cord is still in the medicine bundle.
Why Is This Artifact Significant? Our local history begins in the footsteps of those who passed over Ute Pass to build Colorado. Early explorers documented the travels of the Utes over the Ute Pass trail, wearing it into a well worn road. In 1912, Chief Buckskin Charlie and 50 Utes returned to rededicate the trail. They have never been back. However, they have left us a rich heritage and we have a responsibility to interpret the culture of the Ute people. The cradleboard is a jewel of that culture, a tangible object that symbolizes the continuity of the family, the community, the tribe, and life itself.
How Does the Artifact Relate to Colorado History? Colorado's Ute people lovingly created cradleboards to provide physical and spiritual protection for their adored infants. The portable baby carriers were securely attached to the mothers, enabling them to carry out daily routines with full mobility while keeping their young close at hand. The handcrafted design and beadwork for each cradleboard drew upon familial or tribal history, perhaps honoring historic events or ancient legends. In its uniqueness as a work of art, it remains a tangible reminder and a symbolic celebration of Ute culture in Colorado.