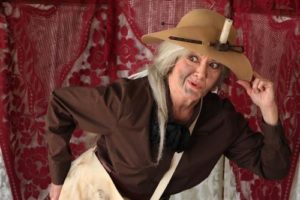 Ute Pass Historical Society & Pikes Peak Museum Annual Patronage Luncheon
Sunday, January 29, 2017, Ute Pass Cultural Center, 210 E. Midland Avenue, Woodland Park
Captain Jack performs along with other "Unconventional Women of the West"
12:30 p.m. Doors open for UPHS Patrons
1:30 p.m. The public is welcome to attend the program
Ute Pass Historical Society honors its Patrons with a buffet of homemade soups, salads and sandwiches.
The Traveling Book Store will be on hand with a selection that includes
Discovering Ute Pass Volumes I and II and the 2017 UPHS Pictorial Calendar.
Not a Ute Pass Historical Society patron? Become one at the luncheon! A family
membership is only $35 and all memberships include a 10% discount at the Gift Shop.
Sorry-no credit cards. For more information call 719.686.7512.