Mark your calendars for the Bronc Day/ Wild West Fest pm pm July 29th, 7 a.m. to 3 p.m. in Green Mountain Falls! The Ute Pass Historical Society Traveling Bookshop will be there with an array of books for sale and the exclusive Green Mountain Falls historic photo 2018 calendar!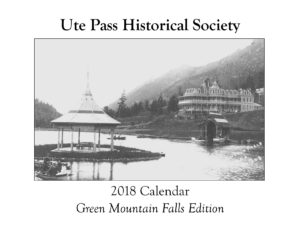 The day starts from 7 a.m. to 11 a.m. with a pancake breakfast at the fire station, followed by a parade at 10 am, which includes fire engines, floats, antique cars, clowns, cowboys, horses, and the Bronc Day Princess.
The rest of the day features fun for the whole family including a gunfighter's show, 26 foot high Air Slide, Disney Bouncer, Rubber Duckie Race, Stick Pony Rodeo, RC Boat Races, Indian Dancers, kid's games and arts and crafts booths.
For info visit www.broncdayco.org