Archives for 2017
Holiday Open House
Saturday, December 9th
11 a.m. to 2 p.m. at the UPHS Gift Shop
Enjoy hot spiced cider and seasonal goodies
while browsing our extensive selection
of books and one of a kind holiday gifts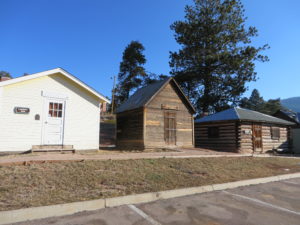 Warriors of Woodland Park pays tribute to all veterans buried in the Woodland Park Cemetery. Every vet is featured by name and branch of service, along with personal data if known.
Moses Baldwin was the Father of Woodland Park… and a corporal in the Union Army.
Orville Anderson was a Marine orderly for General MacArthur.
Elsa Hayward was one of the first women to serve as a Navy WAVE (Women Accepted for Volunteer Emergency Service) during World War II.
Other brave men and women served as pilots, radio operators, tank mechanics, and other jobs.
You are invited to learn about those involved in controversy, men held as prisoners of war, and one young Marine, Eric Dickson, who was Woodland Park's only Vietnam casualty.
Warriors of Woodland Park – Military Veterans of the Woodland Park Cemetery is on display in the Woodland Park Library during regular working hours through the month of November.
Discovering Ute Pass, Volume II: Tales of Upper Ute Pass is available for $21.99 only at Ute Pass Historical Society Gift Shop.