What a great holiday gift idea!!!
The Old Curiosity Gift Shop at the Ute Pass Historical Society & Pikes Peak Museum is open Wednesday through Saturday year-round, from 10 to 3. Get a head start on your holiday shopping!
Our Gift Shop is located in the Museum Center building at 231 E. Henrietta Avenue in Woodland Park.
The shop offers an extensive selection of books and unique gift items, including Native American drums and art, and lots of handmade jewelry.
Our 2017 Pictorial Calendar makes a wonderful gift and is avail
able for $12 + tax. The long awaited, recently released books, Discovering Ute Pass, Volume I and II, are available for $21.99 + tax.
All patrons receive a 10% discount in the Gift Shop, including reprint orders from our collection of over 4,000 photos of the Ute Pass area.
Cash or checks only, please! If you have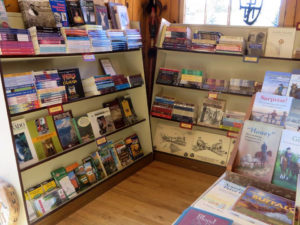 any questions, please contact us at: 719.686.7512.